Paper Source does a Holiday Card Contest every year and request entries using exclusively Paper Source products. Since this store is so new, this is absolutely the best year for me to enter since there will be so little competition! ;-) Two winners are chosen from each store, and the winners receive a $50 gift certificate to the store! Woohoo! A couple of weekends ago, Shannon and I made a shopping trip to Paper Source to collect all our supplies and then spent a wonderful Saturday evening designing and assembling our entries! There's nothing better than good friends, good crafting, and good drinks to spend a weekend evening with.
Here are the end results. Unfortunately, I did not take "how to" photos of this project. I've been a little lazy when it comes to that. Plus I've been really eager to do some of these projects and just didn't think about taking pictures of the process.
Here is my entry.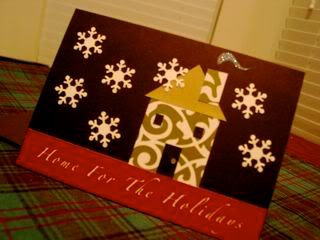 And here is Shannon's entry.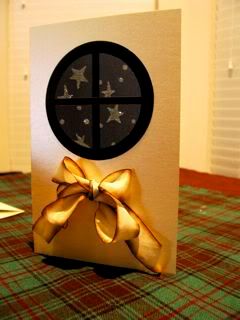 Love her monogram envelope closure! We've got our fingers crossed! I'll keep you guys updated when the winners are announced!