Well, it's finally time for the big reveal of our indoor holiday decorations. I got a picture of the Happy Holidays banner that I made the other day and that was the last piece I needed in order to finish this post. Since I'm super excited about the banner, I'll start with it.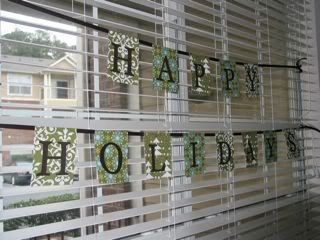 This was a very simple and yet effective project. All I did was buy different yet coordinating papers and cut them into 4 x 5 rectangles. Then I found a font I like and printed out letters on the computer that would be the right height. I placed the printed out paper on top of the nice paper I was using (since my printer wouldn't print on the dark brown paper), and cut the letters out using my "template".
Next we have the kitchen table set up.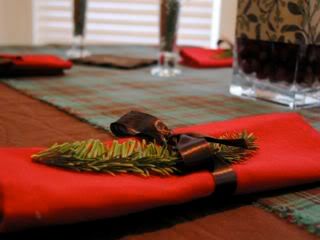 This picture is really bad (hate, hate, hate flashes), but you can really see the cranberry's I used to pull out the red.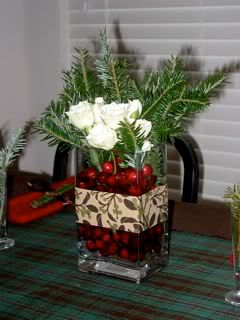 Next up we have the bar decorations.
I'm learning the VAST uses for scrapbooking paper. Here I wrapped it around some vases. (Not my idea by the way. I saw it on another blog.)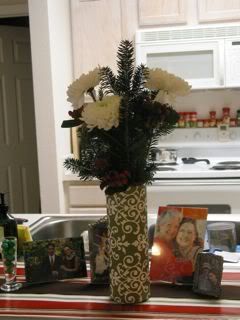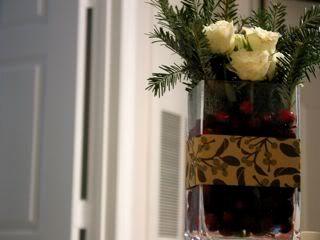 When doing a party, an easy way to give a coordinated look can be to use the same coordinating paper throughout your decorating. It can be used as napkin rings, case liners (on the outside of course), banners, place mats, table runners, etc.
And as in the other blog, shot glasses are awesome!
I wish everyone a happy holidays! And I'm sure there will be lots of blogs to come if I get what I think I'm getting for Christmas! ;-)