Now that all the Holiday Cards have been mailed, I can share them here. I decided to do something fairly simple this year, and I'm so glad I made that decision or else they wouldn't have gone out at all.
To save money, I decided that we would go with a post card instead of a card in an envelope. Because of this choice we only spent 27 cents each instead of 42 cents each. So when making card for mass mailings like holidays or weddings, consider doing a post card instead of a card an envelope. But make sure you check on the maximum size of a post card approved by the post office. It's no fun to get there and realize that they are too big.
Anyway, I grabbed pictures from gettyimages.com. (My dad has a subscription because of his business and I can get low res files for free.) I love wreaths, so I decided to make a collage of different ones and then add one of us in front of our wreath.
Here's how the front came out.
Since this was our first holiday season as a married couple, I decided to play off the Home for the Holidays idea. I love dictionary definitions, so I looked one up. Once I had that, the back pretty much wrote itself. :-)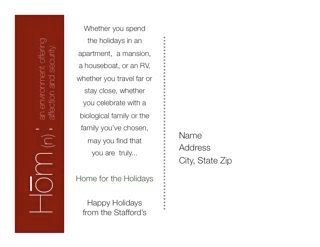 So there you have it... the Stafford's 2008 holiday cards. Hopefully everyone got them. Did any of y'all make your own holiday cards? If so we'd love to see!