I've been meaning to take some cool pictures of my first crochet project, but it's freaking dark every night by the time I get home from work and my photos suck when I have to use the flash. So, I broke down and decided to just take a few pictures with my cell phone at the office. Can you tell I'm a little bored. Don't get me wrong. I have stuff to do, it's just been a crazy busy week and I'm tired and don't feel like doing anything right now.
So here it is...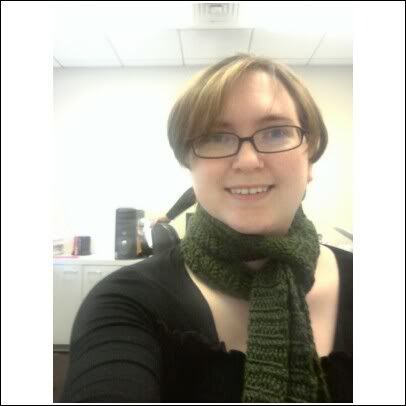 A simple scarf made from one skeen of
Simply Soft Eco
yarn which is made from 80% synthetic fibers and 20% recycled plastic bottles. I can attest to the fact that this yarn is very, very soft and I love the recycled aspect of it. Plus it's available in many colors, reasonably priced, and easily found since it's carried by Walmart.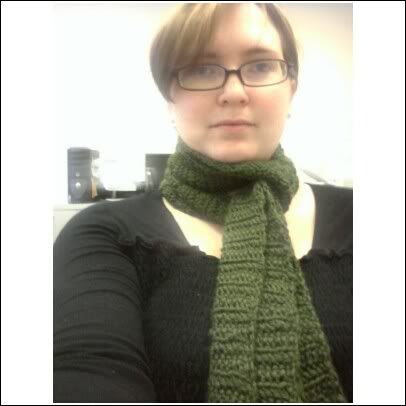 I usually like my scarfs to be a little longer, but was too excited about it that when I finished the once skeen, I decided to just stop and celebrate for a while. The next one I might make a little wider and a little longer.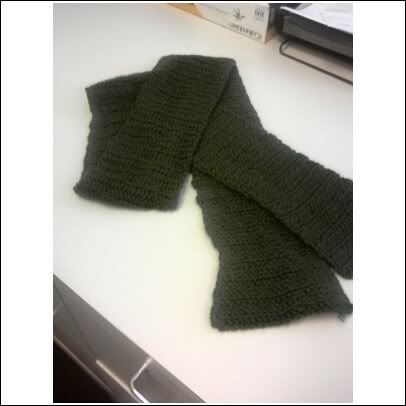 I'm actually pretty proud of it if I do say so myself. I've been trying to get this figured out for weeks! For the longest time, the practice stuff that I would do would come out looking all lopsided and jaggedy. I knew I was either dropping a stich or adding a stich somewhere, but just couldn't figure it out. After working with it for a while, getting a book, and talking to a couple of crocheters, I finally figured out what I was doing wrong and it started working perfectly.
I've totally enjoyed wearing my scarf, and have already had a request from a friend for one. I'm going to Walmart tonight to get some more yard so that I can start on that next one, plus have some awesome patterns I've found that I'll be starting on soon!
I don't know what it is about this that I like so much. Maybe it's the history. Being a third generation crocheter is an awesome feeling and knowing that I could pass it on to a fourth generation feels even better. I love feeling connecting to the women in my family.
I also enjoy the focus that it gives me in the evenings. It's hard to watch tv, crochet, and have a million worries run through your head all at the same time. Also, in reading about children who have experienced trauma I've learned that rhythm is very important and very healing to the brain, and I do really love the rhythm that one gets into while crocheting.
It could also be my love of a finished product. I love having accomplished something, and having something to show for my work. I also am really looking forward to having something handmade that I can give to those who are closest to me.
So, anyway. I'll be starting a couple of new projects soon, and I'll be sure to keep you all updated. I'd love to see other's projects. Feel free to link to your blog in the comments if you want to show something off!
bonnie
p.s. for those none crocheters, knitters use knitting needles, crocheters use crochet hooks, which is where the hooker comment comes from. :-)