It's is truly the holiday season around The Stafford house!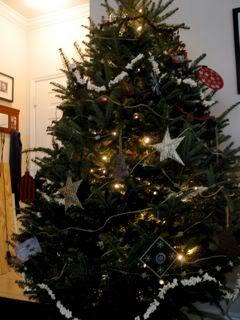 For years I have avoided and boycotted the holidays. Growing up in my family, the holidays were not a fun time. My mom suffered from seasonal affect disorder and went through deep depression during the holiday season. On top of that, my parents had a rocky marriage for as long as I can remember. Nether of my parents had enjoyable family holiday memories from their families of origin. Not to mention the stress of the holidays did nothing good for my dad's bipolar disorder. There was often struggles between whether we went to see family for Christmas and if we did, which ones and when. There is one famous Christmas when my dad's parents came down. My dad and his dad got into a HUGE blowout argument and they ended up leaving early.
So, coming out of that I married into the family from hell (for many reasons, and I'll spare you all the gory stories) when it came to the holiday season. My ex-husband's father and his wife were awesome. They were flexible, and understood that we had 4 families that had to be visited. But his mom and mom's mom had no such understanding. We were required to be at the grandmother's house for Christmas morning to eat and open presents. No matter what!!!!! It was so stressful, that one Christmas morning I actually took a Xanix just to try and stay calm through the whole thing.
So, now, three holiday season into my relationship with my wonderful husband, it seems I have finally found a place of peace and joy when it comes to the holidays. The decorating, the baking, the gift giving, have all been overwhelmingly enjoyable. And I am just expecting it to get better and better.
Here's what I have pictures of so far...
The entrance decorations re-using the shepherd crooks that Wes McCarley made us for the wedding.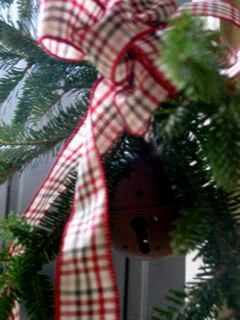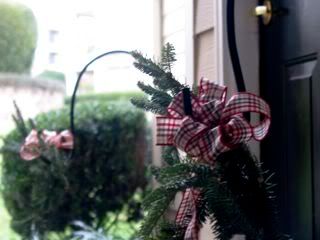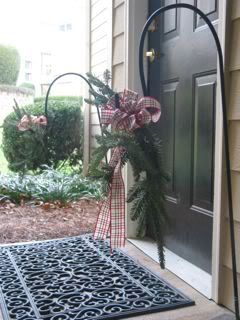 Our beautiful wreath, which I love so much!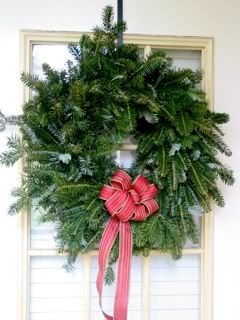 And the back porch decorations I made out of a bunch of misc. pine branches bought at a wonderful price at the tree selling place.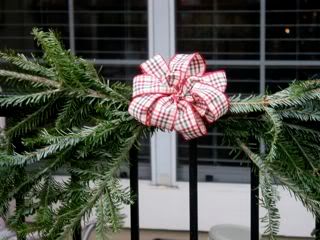 Stay tuned for more inside decorations. Hopefully tomorrow. But for tonight, I'm wishing you all a wonderful holiday season. May it be not only merry and bright, but peaceful and stress free.