I've been wanting to make something small for the folks at my office for a few Chrismas seasons now (since I've been moving so much that has been three offices in three seasons). But each year, everthing else going on in my life overwhelmed this desire. This is the first year where things have been calm enough to actually see my vision come to fruition.
I've been making chocolate covered pretzles rods for a few years now. It started out as a challenge (as most of my projects do), because I couldn't figure out how they did that, and how I could do it without filling my bathtub up with melted chocolate in order to dip the pretzels. Through trial and error, I realized that if I melted just a regular amount of chocolate in a double boiler, I could use a spoon (or this years epiphany was a spatula) to scoop up the chocolate. I then drag the pretzel through the chocolate filled spoon/spatula and twist the pretzel so that it is completely covered. The twisting also creates an interesting patteron on the pretzel as well and is an added bonus.
Unfortunately, I did this project on Thursday when I was off and Jay was at work, so I wasn't able to take pictures of the process. (I really need to figure out how to add a 3rd or 4th arm, oh and while we're at it, a couple more hours in the day would be totally SWEET!) But I do have a few pictures that I hope you enjoy.
Here they are drying all over our kitchen. Not surprisingly, when Jay got home we decided to order pizza since there was no room to prepare dinner of any kind in our kitchen!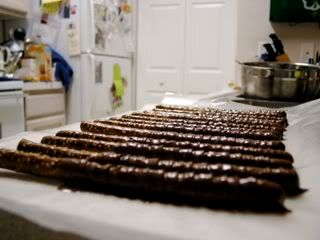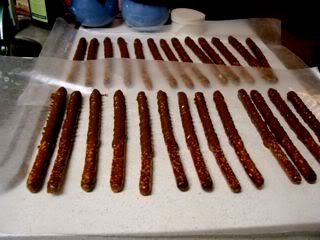 And here they are after I wrapped them in celephane, tied them with ribbon, and added the tag/tree ornament.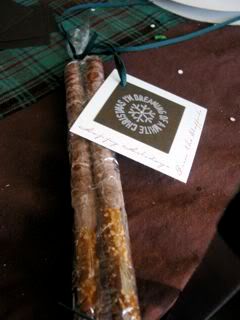 Are you doing anything fun, creative, and cheep for your co-workers, or even friends and family since budgets are tight this year?