Due to the Country Music Awards last week, I downloaded a bunch of new songs. All of them have spoken to me in different ways. Expect there to be a few blogs coming about what they have been saying.
Today we start with...
Love
by Sugarland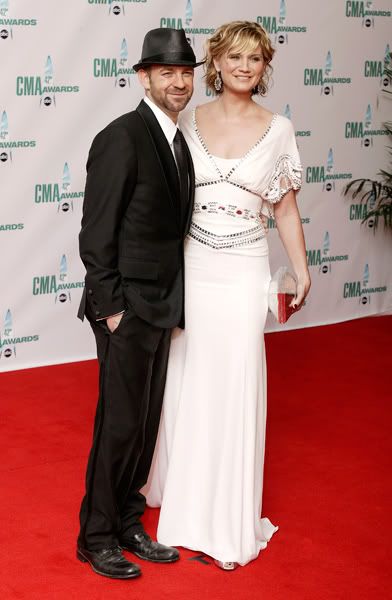 *The duo arriving at the CMA Awards. Note that is hands down my favorite dress of the evening! Photo via www.cmt.com*
Is it the face of a child
Is it the thrill of danger
Is it the kindness we see in the eyes of a stranger
Is it more than faith
Is it more than hope
Is it waiting for us at the end of our rope
Chorus:
I say, it's love
I say, it's love
Is it the one you call home
Is it the Holy Land
Is it standing right here holding your hand
Is it just like the movies
Is it rice and white lace
Is it the feeling I get when I wake to your face
Repeat Chorus
Is it the first summer storm
Is it the colors of fall
Is it having so little And yet having it all
Is it one in a million
Is it a chance to belong
Is it standing right here singing this song
Repeat Chorus 4x
Is it a veil or a cross
Is it the poet's gift
Is it the face that has launched over thousands of ships
Is it making you laugh
Is it letting you cry
Is it where we believe that we go when we die
Is it how you were made
Is it your mother's ghost
Is it the wish that I'm wishing for you life, for your life, for your life the most
*************
Is it having so little... and yet having it all.
Wow, what a thought. In these volitile economic times, sometimes we just need to be reminded of what is really important in life. If you haven't listened to the song, I highly recommend it. It's not your typical country-western where if you play it backwards you get your wife, your dog, and your truck back. I have a feeling that this song is going to be making an appearance in my movement class at Alexander Youth Network. I think the kids will really like the beat and the passion of the song, and it will give us an opportunity to discuss what love means to them.
I'd love to hear... what does love mean to you?
And if you have any song request for the Thriving is Elegant blog, leave them in the comments!