Yes sir-y! Shot glasses are not just for Jell-o shooting frat parties anymore. It is in fact quite amazing what you can do with a nice set of double shot glasses. The decorating ideas are truly endless.
So, last time we saw my wonderful and amazingly flexable double shot glass set (given to us by our wonderful friends, Dan and Shannon, as a wedding gift), they were holding sprigs of pine and cinnamon sticks (pics are in the archives) and alternating green and red penut m&m's.
Well, since the solstice is over and it's time to start looking forward to the spring (and because they were on sale at Harris Teeter), we have some lovely, bright pink, cheery tulips.
I simply spaced them out to act as a runner down the middle of the table.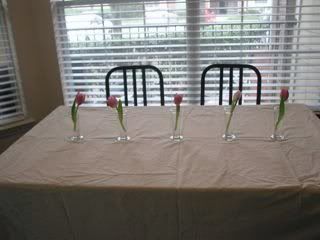 I've learned lately that successful flower arranging, is all about having the right container! You can have a beautiful bouquet of flowers, but if they are put in a container that is too big or too small or that simply does not complement their shape and size, it will simply ruin them. This is why I was always dissapointed in how my flowers looked when I was younger. They would look so beautiful in the bouquet, and then I would take them out, snip off the ends and dump them haphazardly in whatever vase I had, and then wonder why they didn't look as good as they had in the box or bouquet.
The amazingly wonderful thing about using shot glasses as vases, is that you can make a little go a looooong way! This bouquet of tulips was on sale at Harris Teeter for $3.33. And out of that I got an entire center piece!
So, if you are looking to do a lot with a little, or like me, trying to Thrive with less then consider pulling out those old shot glasses from college, or buying a nice new set and letting your imagination run wild.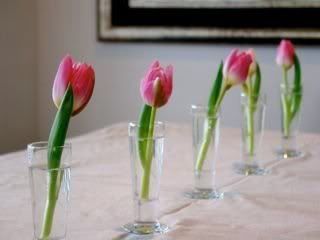 So what are your favorite tips for making a little go a long way? We'd love to hear!