I've been promising you pictures of the things I've been doing with my Christmas presents (the Cricut and heat embosser). Last week was a little crazy, but without further ado I present... the first batch of projects using my new toys.
I figured that the first thing I would start doing would be making thank you cards for the people who pitched in to buy me my cricut machine.
These first two use awesome paper from Paper Source and the more conventional "positive" image from the Cricut.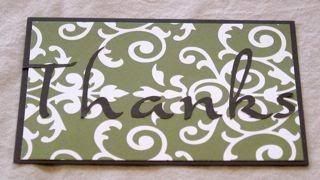 This one takes advantage of the awesome "tag" shape that comes with the standard Cricut cartridge and then this awesome thank you stamp I got from paper source a while ago.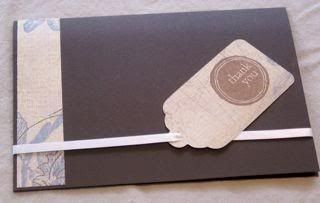 This one uses the "negative" that the Cricut produces. It's awesome to be able to use both the negative and the positive. It doubles the possibilities.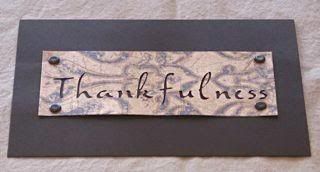 And this one uses the "tag" shape from one cartridge and the font from another cartridge I bought. Love the possibilities that this machine creates.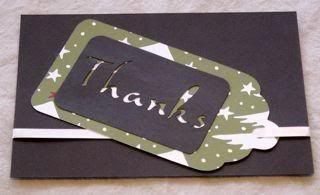 Next we have the amazing and fabulous heat embosser. So, far I've only gotten the clear stamp pad and the clear embossing powder, which creates the illusion of a water mark embossing. Soon, I'll be getting a couple of colors, but you have to be really careful with them because things can get realy tacky really fast if one is not careful! But, so far, I am simply in love with the embossing I've been able to do and also with this beautiful stamp I purchased with some of my holiday money.
Needless to say I am pleased as punch with my holiday gifts and plan to get lots, and lots of use out of them! Unfortunately the cartridges for the Cricut run about $45 a piece on sale, so I can't just run out and grab one whenever I want one. But I'll be added to my collection as soon as I can!
So, what gifts did you receive that have continued to give?