About a month ago was my 29th birthday. One last year as a 20-something. Holy crap! Next year I'll be 30!!! I never thought that I would have a hard time with getting older. But I'm a little more worried about it than I expected. We'll see though. I think it just has a lot to do with not expecting to be where I am at this age. I figured by the time I was 30 I'd have my Doctorate degree or by saving the world. But I'm just boring ol' me. But anyway... onto the birthday party goodness.
I had talked with Jay about what i wanted for my birthday. I finally decided that I really just wanted to throw a party, with invitations and a color scheme and matching drinks.
I decided to go with an ocean blue and lime green color scheme. So I was able to use a wonderful table cloth that I already had. In fact it was a great find when I stumbled across it many, many years ago. It was on clearance at wal-mart and I think I got it for about $5.
For centerpieces I tried something I'd been wanting to do for a long time. I took two square vases and filled them with whole limes and some small purple sprigs. Then in a tall cylinder vase, I cut up limes and lined the vase with them. Then I put some tall blue irises in the middle. It worked really well. I started out by trying to get the limes to stick to the side of the vase, but that didn't work too well. So, I filled it with water and put the irises in it. At that point there was enough in the vase to hold the limes slices against the sides. I just dropped them down the side and arranged them with a knife. I was quite proud if I do say so myself.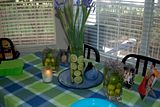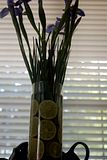 As favors I decided to pick up some martini glasses at the dollar store and spruce them up with some pretty name tags. I decided that the favors could do double duty both as favors and as drinking glasses so we didn't have to get a bunch of plastic cups. Plus the tags would double as glass markers. They were a big hit, except not everyone took theirs home so we ended up with a bunch of martini glasses. I think one night when the Hales are over we'll have sorbet and whipped cream in them.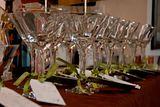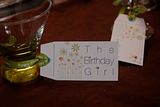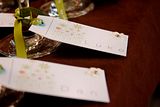 We set up a drink station at the end of the bar. To continue with the color scheme, we had melon lemon drops and blueberry martinis. And in order to provide for the tea totalers out there we had green apple and berry lemonade Jones Sodas.
For food, we served my favorite meal of all time... my mom's cubed steak and gravy with mashed potatoes and creamed style corn. Mmmm, mmmm, mmm!
But as much fun as all the planning and executing was, the most fun part was having so many people that I loved in the same room having a good time. Not to mention, it was the first time that I had gotten to meet my nephew, my baby brother Aaron's baby. He was so adorable!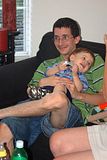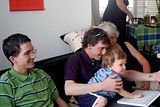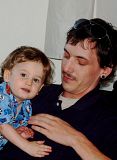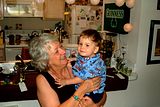 We had so much fun! And it was a great way to ring in the last year of my 20's!