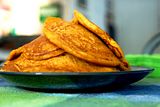 One of the things I love doing is taking a weekend morning and experimenting with something new. So, a couple of weekends ago, I decided that I wanted to make pumpkin pancakes. They are one of my favorite foods, well pumpkin anything really. I always look forward to the fall when when restaurants start serving pumpkin pancakes, pumpkin bread, pumpkin muffins, and how could I mention pumpkin food without mentioning Cheesecake Factory's pumpkin cheesecake! Woohoo!
Anyway, I got online and found a recipe from the mother of all things wonderful and cool... Martha Stewart. I'd never made pancakes from scratch, who needs to when there is Bisquick. But I figured it would be a fun adventure. So, here are a few pictures of our efforts.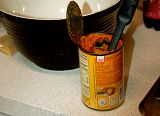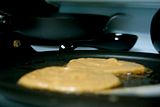 I know Jay isn't a huge pancake fan, so I decided to make cheese eggs and hashbrowns as well. I was hoping to find some fancy bacon, but Harris Teeter doesn't sell any in their meet department. And apparently The Fresh Market doesn't open until 11am on Sunday. Jay was in charge of the eggs and hashbrowns. And they turned out wonderful as well.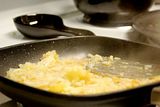 The pancakes weren't that difficult to make. Trust me, if I can make it, anyone can. And they turned out to be SOOOOOOOO good. I highly recommend this recipe!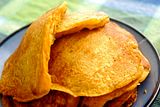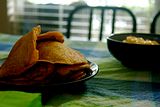 Here is the recipe...
Pumpkin Pancakes
For a spiced breakfast treat, whisk 1 1/4 cups all-purpose flour; 2 tablespoons sugar; 2 teaspoons baking powder; 1/2 teaspoon each cinnamon, ground ginger, and salt; 1/8 teaspoon nutmeg; and a pinch of ground cloves. In a separate bowl, stir together 1 cup milk, 6 tablespoons canned pumpkin puree, 2 tablespoons melted butter, and 1 egg; fold mixture into dry ingredients. Melt some butter in a skillet over medium heat; pour in 1/4 cup batter for each pancake. Cook pancakes about 3 minutes per side; serve with butter and syrup. Makes 8 to 10.
And here's the link...
http://www.marthastewart.com/article/pumpkin-pancakes
Hopefully there will be another installment of Adventures in Breakfast soon.
Love y'all!
bonnie