Well it's officially! I ordered my wedding dress yesterday! I'm so excited! It's like we're really getting married now! The funny thing is, it's not the dress I thought I'd decided on (which is the one that's been posted here). I kept feeling like I was having to talk myself into that dress. It was definitely my favorite of the ones I tried on at David's Bridal, but it just didn't set right. I wasn't convenced and I'm not like that. I'm usually someone who is like, "OK! Decision made! NEXT!" So, the fact that I hadn't gone to buy it and that I kept looking at other dresses made me think that maybe it wasn't the ONE!
So, I decided to go to a more traditional bridal store. I knew that what I had really been looking at where bridesmaid dresses in white (since i like things very simple and less expensive), but David's Bridal doesn't do any of their bridesmaid dresses in white. Not to mentioned I'd really hated the feeling of being pressured to buy something because I'd taken up the time of the sales woman and she was on commission. I expected even worse when I walked into Traditions Bridal in Newport News. But soon realized I was very wrong. The moment I walked into the almost empty store (opposed to the packed at the seems, sales person helping more than one bride experience at David's Bridal), I was instantly greeted by a very pleasant sales women who asked what she could help me with. I explained that I was having a difficult time finding a dress because I was very simple and really like more bridesmaid dresses in white, but hadn't had any luck finding that. She looked surprised and said that all her bridesmaids dresses came in white and for me to pick any one I liked. She showed me some simple wedding dresses as well but did not push when I said they were still too bling, bling for me.
So I picked out a few dresses, which she quickly took to a dressing room for me (without giving me the feeling that she was suffocating me). She also let me know that they could hem any of the dresses I picked out in the store to tea length so not to feel stuck to only the already tea length. So, I started trying things on. Amazingly most of the samples were in a 10 or 12 so they fit almost perfectly and gave me a great idea of what they would look like. Although with the way my mind works it was a little hard to look at a bright red dress and imagine it in white.
Anyway, I tried on a few and kept getting more and more excited because they were so much closer to what I was looking for. Another saleswoman came by to check on me (because they don't work on commission and aren't territorial of their customers). She asked how things were going. When I said wonderfully, she said, "but you're not coming out! The lighting is much better out here!". When I came out they all owww'd and gooo'd. And then I tried on this one dress and the moment I zipped it up I knew it was THE ONE!
When I walked out I started explaining why it was so perfect. The sales woman said they have a term for that. It's called PNP... Pretty Near Perfect! Hehe.
It had an empire waist with a sash detail that would be similar to the dress the girl's will be wearing. And i felt like a princess! A comfortable princess though! The dress comes floor length with a short sweep in the back. And it has straps already! The one thing I didn't want to do was spend the entire day tugging on a strapless dress! They can hem it for me to tea length when it comes in in October or I can leave it floor length. I'm still trying to decide. I like the idea of the tea length, but I'm afraid that despite Jay's insisting to the contrary in his head he has this image of me coming down the isle in a long white dress.
I think I'll try and get my mom up here when it comes in to help me decide. If I get it hemmed a little then I probably wouldn't mind it being floor length. I just don't want to be kicking it all day long! I want to be able to enjoy my day without thinking, "somebody get me the hell out of this uncomfortable dress!"
It's so me! I love it so much! And I can't wait to wear it to marry my soul mate!
Well.. I'd love opinions on the tea length vs. the floor length. Here's the dress! Except the sash will be in clover green.
And here's the bridesmaid dresses I've picked out.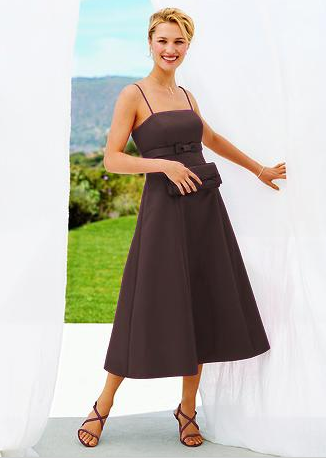 The girl's will be wearing monogrammed cardigans in clover green which will match the sash on my dress. I'll probably have a brown cardigan as well in case it is chilly that day.
So... what does everyone think???????
Thanks for listening to my wedding ramblings. I love you all!